Silicon Graphics Indigo2 IMPACT 10000 (
"FULLHOUSE"

)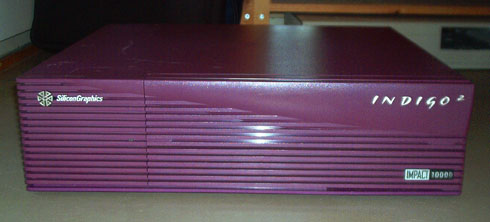 Click here for more pictures.
General Technical Information
HOSTNAME
PURPLEHAZE
SYSTEM CPU
MIPS R10000 @195 MHz
CACHE (2nd, 1st D/I)

1 MB, 32 KB / 32 KB

RAM
1 GB (Max. 1 GB, officially max 768 MB)
SYSTEM BUS WIDTH

64 bit

SCSI BUS
2 x WD33C93B SCSI-2 (10 MB/s)
OPTION BUS
EISA, GIO64

GRAPHICS
High Impact 24-plane 1408x1024 @76Hz
HARD DISK DRIVE
9 GB Ultra2 SCSI 10K RPM
DVD-ROM DRIVE
Pioneer slot loading SCSI DVD-ROM

NETWORK
10/100 Mbps EISA 3Com 3c597 (Phobos E100 "clone") and onboard 10baseT or AUI
AUDIO

IRIS audio chip, both analog and digital I/O

OS
IRIX 6.5.22
YEAR
1996
SPEED
262 VAX MIPS
POWER CONSUMPTION

(MAX. / MEASURED)

- W / 212 W
COMMENTS
IRIX on this machine is fast to use, even the version mentioned above. The IRIX GUI is very pleasant and the over-all feeling is very positive. If you don't like CDE, this is the hardware & *NIX OS you should get!

ESTIMATED PRICE '96
$40,000
Hinv information

FPU: MIPS R10010 Floating Point Chip Revision: 0.0
CPU: MIPS R10000 Processor Chip Revision: 2.5
1 195 MHZ IP28 Processor
Main memory size: 1024 Mbytes
Secondary unified instruction/data cache size: 1 Mbyte
Instruction cache size: 32 Kbytes
Data cache size: 32 Kbytes
Integral SCSI controller 0: Version WD33C93B, revision D
Disk drive: unit 1 on SCSI controller 0
CDROM: unit 3 on SCSI controller 0
Integral SCSI controller 1: Version WD33C93B, revision D
Disk drive: unit 5 on SCSI controller 1
On-board serial ports: 2
On-board bi-directional parallel port
Graphics board: Solid Impact
Integral Ethernet: ec0, version 1
Iris Audio Processor: version A2 revision 1.1.0
EISA bus: adapter 0


History and other comments
This system was imported from the U.S. I have no further information about its origin. I bought it because SGI machines are very well known for being high-end graphical workstations, and I'm particularly interested in was-once-expensive graphics hardware. Considering that this system came with the lowest-end graphics board in the IMPACT series (Solid IMPACT), it's impressive. I can understand why so many graphics designers in the 90's chose SGI.

When I first bought it, it had 192 MB RAM and no CD drive. Later 2002, I bought an original CD drive with sled and upgraded RAM to 320 MB, using two sets of 128 MB SIMM memories (4 x 32 MB 72 pin parity SIMMs ) and one set of 64 MB SIMM memories (4 x 16 MB 72 pin parity SIMMs ). I also bought an EISA card, a 3Com 3c597 to get 100 Mbps ethernet. I highly recommend this upgrade, since it will make your Indigo2/web surfing experience much more pleasant and smooth (assuming you have some kind of broad band Internet connection ).

You can read more about 100 Mbps on Indigo2 here: http://futuretech.mirror.vuurwerk.net/fastether.html

I have now discovered that plenty of very interesting software is available for IRIX, these days; some proprietary software not available for any other unices plus a lot of open source software from SGI's web site. IRIX software installation packages always seem extremely large, but once they're installed, not much so space is consumed. Even a 4 GB disk would do fine as system disk. Don't ask me how it happened but I've now got a pile of 40-50 CDs with only IRIX stuff on them...

In April 2003 I upgraded RAM to 384 MB and installed a Samsung IDE CD-RW drive using an IDE to SCSI bridge adapter. The bridge adapter concept is very interesting, since these miraculous little devices can make it possible to install huge, cheap IDE drives in old SCSI based computer systems. Or in this case; a cheap IDE CD-RW instead of an expensive SCSI CD-RW. Neat.

I found a company selling all sorts of different bridge adapters over here: http://www.acard.com

In late 2004 I bought a so called

SGI GigaRAM Kit

for this computer, second hand of course. The seller specifically informed that it will only work in the R10K based Indigo2s (FYI: I successfully tested it in one of my Alphas also). I started by removing all the 32 MB SIMMs and installed the bigger ones; eight 128 MB FPM parity SIMMs. To my amazement it all worked out-of-a-box. I now have 1 GB of RAM, which AFAIK happen to be the the absolute maximum amount of RAM possible for an Indigo2 system.


Back to My Hardware Collection.